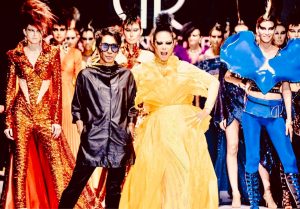 IT WAS a surprise message I got from the Davao designer who is now based in Dubai named Garimon Escandor Roferos.  Garimon recently had the opportunity to showcase his Garimon Roferos Couture collection in the Middle East Fashion Week (MEFW) held last November 7-10, 2022, which was participated in by both Dubai and international designers. It was a great chance for fashion designers to showcase their collection to the world.  The MEFW event "aims to foster connections between key players across the fashion industry in Dubai."  This wealthy UAE state is a leading luxury retail capital in the Middle East.  The MEFW was established in 2020 with "sustainability" as its long-term goal.  It endeavors to "build a real eco-system uniting all actors in the textile and fashion value chain."  It is also committed to supporting the finest of the emerging talents in the fashion industry.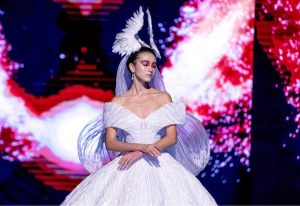 Garimon, ever so excited and proud, described his collection as "a unique one which reflected the various stages that an eagle goes through in its life cycle.  Garimon's couture collection had the theme, "Rise of the Eagle."  Indeed, his models donned an array of creative masterpieces on the runway which only the brave dare wear.  "You can imagine the hardwork behind the scene with my business partners, backstage crew, hair and makeup team, choreographers, photographers and more.  But I am so glad that the audience was enthralled with what I created.  I likened myself to the eagle rising in the face of many challenges in life.  I am grateful my collection was highly anticipated."  Garimon, who was a recipient of the Filipino Times 2017 Most Promising Fashion Designer of the Year, revealed that his collection was inspired by the life of the eagle.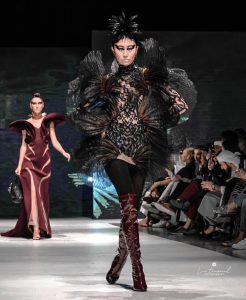 "My latest collection is a conceptualization, visualization and eventually a realization of my dream.  The fact is I got inspired by the life of an eagle and the lessons it holds in life for all of us.  You see the mother eagle builds a secure nest before it gives birth to its eaglets.  By the time the eaglets are ready to fly, the mother eagle then picks at the layers which form the nest and thus expose the various materials it had painstakingly collected.  With this act of dismantling the once comfortable nest, she then encourages her eaglets to leave their nest and fly off on their own," narrated Garimon.  
     "In the progress of its life, the eagle uses the challenges it encounters to fly even higher.  Later on in the eagle's life, it reaches a stage when its beak is no longer strong, long and sharp; its feathers grow heavy; and its once sharp talons can no longer grab food.  At this point in its life, the eagle has to decide whether it has to die or go through an extreme five-month process of rebirth by knocking out its beak and plucking out its talons so new ones can grow to enable it to extend its life.  My collection features color changes which leads to the eagle's rebirth adorned in all its glory," Garimon detailed seriously.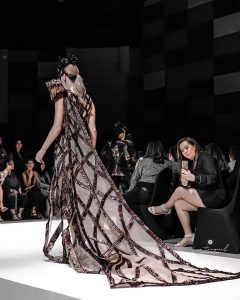 With his success in Dubai, Garimon never forgets to express his gratitude to the Cebuano fashion designer Michael Cinco.  The Dubai-based Michael Cinco, who has gained prominence internationally, has always been known for his amazing talent for creating luxurious fashion.  His passion, creativity and devotion to his craft in haute couture has always been the crowning glory of this marvelously talented high fashion Filipino designer.  It was Michael Cinco who got Garimon to work for him in Saudi Arabia at the start of his career.  It was also Michael Cinco who got him again to be his assistant designer in Dubai when Garimon got bored and tired of the fashion scene in Davao when he came back from Saudi Arabia.  Michael Cinco was also a most generous mentor to Garimon when he decided to go solo and established his Garimon Roferos Couture shop.  "I really love high fashion couture; and I love to experiment which, in my opinion, is the great opportunity being given to me here in Dubai." It was Michael Cinco who helped Garimon get good American business partners, Matthew and Michelle Marie Sauder, at the start of his career a as a solo Filipino designer in Dubai.
     "There's a demand for me to come up with a collection of wedding gowns, formal evening gowns and party dresses as well. 70% of my clients are from Saudi Arabia.  I do get Filipino clients and I give them special discounts.  I also dress up Hollywood celebrities as I have a PR stylist in Los Angeles who'd request me to send clothes for the stars to choose from and wear in special events. I'm looking forward to establishing my name with the Hollywood stars.  I've also been working as a fashion consultant and designer for The Victor Closet, a brand for men's wear.   Egyption Artist/designer Martin Al Masri and blogger Remon Farag are his business partners.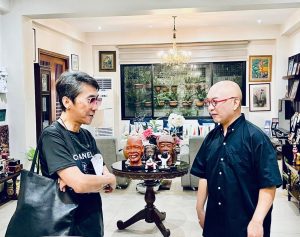 "We have worked with several international fashion designers and Garimon caught our attention because he has a unique methodology in designing clothes.  He has his own method in coming up with creative designs and they are unique and stylish.  He understands his clients very well; and he has a good way of convincing his clients.  His designs are just favorable to me. Best of all, his designs fit the spirit of what the Victor Closet is all about.  Garimon understands us and designs amazing clothes for us," commented Remon Farag.
     "When you see a Garimon creation, you readily know his fashion signature, his very spirit expressed in the designer wear.  His design, choice of fabrics, color preferences are just fantastic that I readily convinced myself he has to be in The Victor Closet.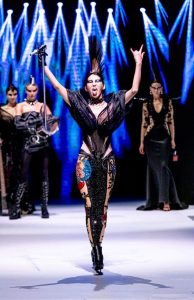 Garimon is Victor," said Martin Al Masri.  The Victor Closet produced Garimon's clothes with the Renaissance Art printed on them which  both Martin and Remon praised as amazing.  I love Garimon's designs and I am a big admirer of him.  Not only his men's wear but his clothes for women are just so.  He has a keen eye on details," said the impressed Remon.
     Wishing you all the best, Garimon Escandor Roferos.  His next collection will pay homage to the artistry of our lumad tribes in Mindanao.  "I will always pay homage to my country especially the region of Mindanao where I grew up.  We have a rich and vibrant culture which I will express in fashion that the world has to know," promised Garimon Escandor Roferos
     Thanks to Bethoven Filomeno for the photos used on this page.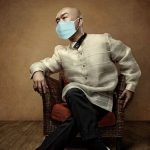 Post Views: 293