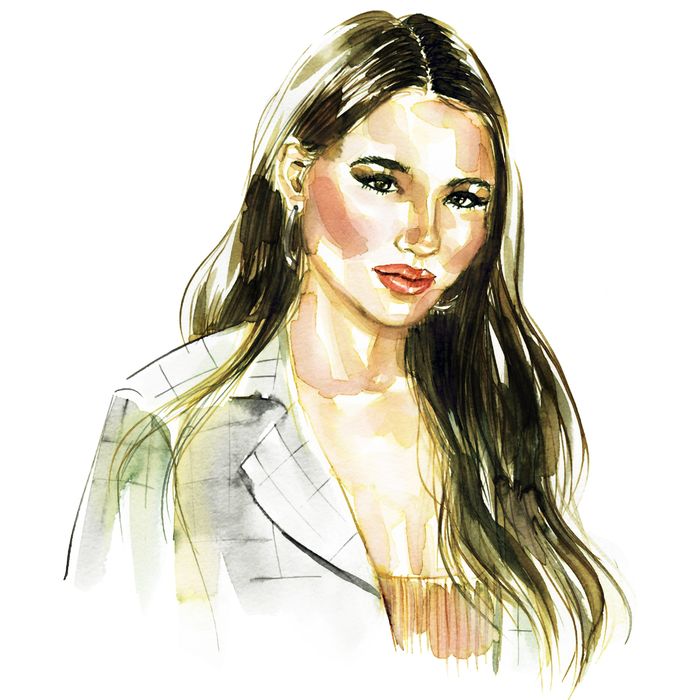 Illustration: Samantha Hahn
For this special Fashion Week edition of "How I Get It Done," we're asking successful women about managing their careers and lives during this hectic time of year.
Justine Marjan is a lifelong beauty lover. She spent her teen years as a receptionist at a salon before moving to L.A. post–cosmetology school and landing not one but two assistant roles to celebrity hairstylists Kristin Ess and Jen Atkin, respectively. From there, she built up an impressive celeb clientele of her own including Kim and Khloe Kardashian, Ashley Graham, and Olivia Culpo. 
Now TRESemmé's global stylist, she's in high demand for Fashion Week with a busy schedule of back-to-back shows. You can find her backstage bringing a client's vision to life and capturing content to share on social media with her nearly 500,000 followers. The L.A.-based new mom balances her heavy workload with video calls home to her husband and son, workouts at Y7, and (when there's time) dinners with her team. When the day's done, she unwinds with gummy vitamins and a sound machine-and-earplug combo to block out the bustling city noises, occasionally skipping the parties and late-night events to be up for early call times. 
On a typical day during Fashion Week:
I have different commitments that vary from season to season and day to day. So the days will either consist of hair tests, meetings with designers, shows, doing clients' hair, panels or events, teaching classes, rec-reating looks on influencers, maybe getting a fitness class in, and dinners or lunches with colleagues or my hair team.
I work with an agency and I also work with TRESemmé, the official hair sponsor of New York Fashion Week. As their global stylist, I've had the opportunity to work with them through six years of Fashion Week shows, two seasons each year. They also will help kind of schedule my commitments throughout the week.
We usually have to get to shows about four hours before showtime. If it's a morning show or a presentation, that sometimes means we have to arrive as early as 4 or 5 a.m. In that case, I might try to blow-dry my hair the night before so it's really quick for me to get ready and head out the door. If the shows are later in the day, I may spend more time getting ready and having breakfast, maybe filming a tutorial or editing a video. I don't usually stay out very late. I will get dinner and then head back to my room to decompress and prepare for the next day. I have to be well rested to function properly through the week.
On staying healthy during Fashion Week:
It's usually a struggle to make time to eat if it's a very busy day. If the coffee shop is open at my hotel, I'll grab a coffee and a quick bite before I leave, something I can take on the go. Backstage, there's usually some sort of food and drink for the staff and models. I can count on grabbing something there, but I don't have time to eat it until the show's over. I try to have my assistant create a little stash that we can hide so that we have something by the time the show's over because otherwise everything is cleared out pretty quickly.
If I have an early call time, in the evening I'll just get takeout to my hotel so that I am not going out to dinner. There's a Sri Lankan place that delivers to my hotel that I get every time that I go to New York because there's nothing like that in L.A. That's what I love about New York — even the takeout that you can get is still amazing. It's not like that in L.A. at all. I look forward to delicious meals every time I'm in New York. Sometimes my whole team is in my hotel room, prepping hairpieces the night before, so then we'll probably just get pizza or something similar. Last time we did that, we got Rubirosa for everyone. If it's the end of Fashion Week or in the evening after a show, usually we all like to celebrate and so we'll go to a more lavish dinner.
It's definitely hard to eat healthily. You're taking what you can get. That is tough for me because I am pretty healthy regularly. If I'm not eating that well, I do feel it. But I bring all my vitamins with me. I stay pretty good about getting all my nutrients in.
On screen time:
I don't check my phone much when I'm working because I just don't have time to look through texts or emails. But I'm definitely glued to it in the sense that I'm trying to film and edit content quickly. Everything at Fashion Week happens so fast, and it's super time-sensitive. I do feel pressured to get great-quality content and get it up quickly. I always have my phone out or have someone else using my phone to help me try to capture that.
On planning her wardrobe:
Since I'm coming from L.A., I do plan everything in advance so that I'm only packing what I really need. Backstage, I try to wear flatter shoes because I'm on my feet for such a long time. Then just something that is comfortable and professional. It depends on the season and what the weather's like, but slacks and a blazer or an oversize T-shirt.
On a successful Fashion Week:
Creating a powerful hairstyle that becomes a trend is always the ultimate goal. I love seeing the TRESemmé products I'm using create something really strong and beautiful. The goal is also to get coverage by press for the designer and to inspire women around the world to re-create the looks at home using products they can afford. The best feeling is after the show seeing other people on social media or out and about wearing the hairstyle.
On being a working parent:
Last year I brought my son to Fashion Week with me, which was really an experience. He was five months old. That was his first time on an airplane.. My husband came with me as well. It was still pretty peak pandemic. When I usually have gone for Fashion Week, I've gone by myself and had a lot more time to spend editing and working in the evenings when I'm done. Whereas when my son and my husband were there, I really didn't feel like I could do that. It was really hard to split my time. This time, they will not be going with me, and I'm in my feels about it for sure. My son's almost a year and a half. But my husband fortunately is a very supportive and hands-on partner, so he's going to be looking after him and my dog, and I know that he's in really good hands.