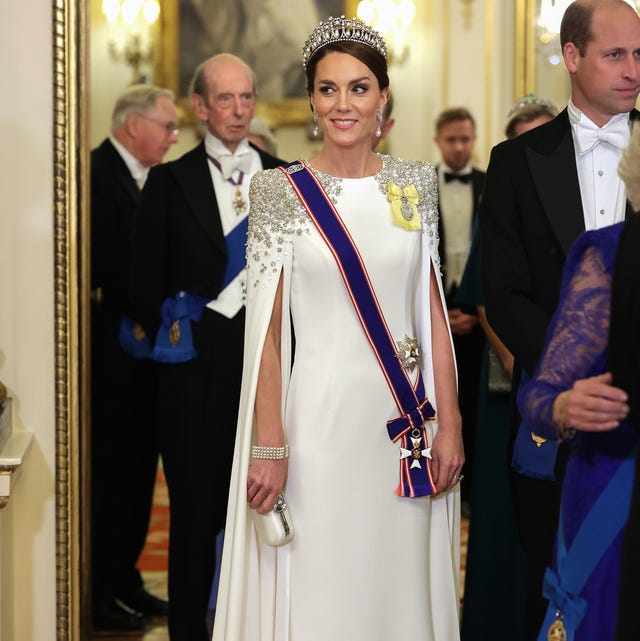 Chris JacksonGetty Images
The first-ever State Banquet hosted by King Charles took place this evening at Buckingham Palace. The royal family welcomed South Africa's president Cyril Ramaphosa. His wife, First Lady Tshepo Motsepe, was unable to make the trip to the UK for medical reasons. The last State Banquet took place in 2019, when Queen Elizabeth hosted then-President Donald Trump.
In addition to King Charles and Queen Camilla, in attendance at the State Banquet this evening were the Prince and Princess of Wales, the Earl and Countess of Wessex, the Duke and Duchess of Gloucester, the Duke of Kent, Lady Susan Hussey, and Queen Elizabeth's former lady-in-waiting, The Honourable Annabel Whitehead.
Here, see all the best photos of King Charles's first State Banquet—featuring tiaras, of course:
Advertisement – Continue Reading Below
The Prince and Princess of Wales arrived at the State Banquet in style.
The President of South Africa, Cyril Ramaphosa, poses for a picture with King Charles III and Queen Camilla. This week's State Visit marks the first South African visit since 2010.
Next to Kate is her husband Prince William, and directly behind Kate is the Duke of Kent, the Queen's first cousin.
Sophie, Countess of Wessex, looked elegant in a green gown and the Wessex Aquamarine Necklace Tiara, which she first wore in 2005.
She was joined by her husband, Prince Edward. Edward was the only one of King Charles's siblings in attendance at the State Banquet.
President Ramaphosa, King Charles, and Queen Camilla at the banquet.
Prince William seemed to look directly at the cameras on their way into Buckingham Palace.
President Ramaphosa chatted with King Charles, as South Africa's Foreign Minister Naledi Pandor and Camilla, Queen Consort walked in together.
Foreign Minister Naledi Pandor and Queen Camilla walked side-by-side into the banquet.
Behind Queen Camilla, Prince William walked in with another guest.
The Princess of Wales followed, chatting with another guest.
The Countess of Wessex also walked in with a guest.
Buckingham Palace also shared photos of the banquet, where the Princess of Wales was seated next to President Ramaphosa.
The guests were seated in a horseshoe shape at the banquet. Here, they stand during a toast.
The South African president and the British king clinked glasses after a toast at the banquet.
President Ramaphosa laughed during the King's remarks.
Kate shared a toast with President Ramaphosa during the banquet.
Labour Party leader Sir Keir Starmer and his wife Victoria Starmer were in attendance at the State Banquet.
Foreign Secretary James Cleverly and his wife Susannah Cleverly were also guests at the banquet.
Another overhead view of guests at the banquet.
Advertisement – Continue Reading Below