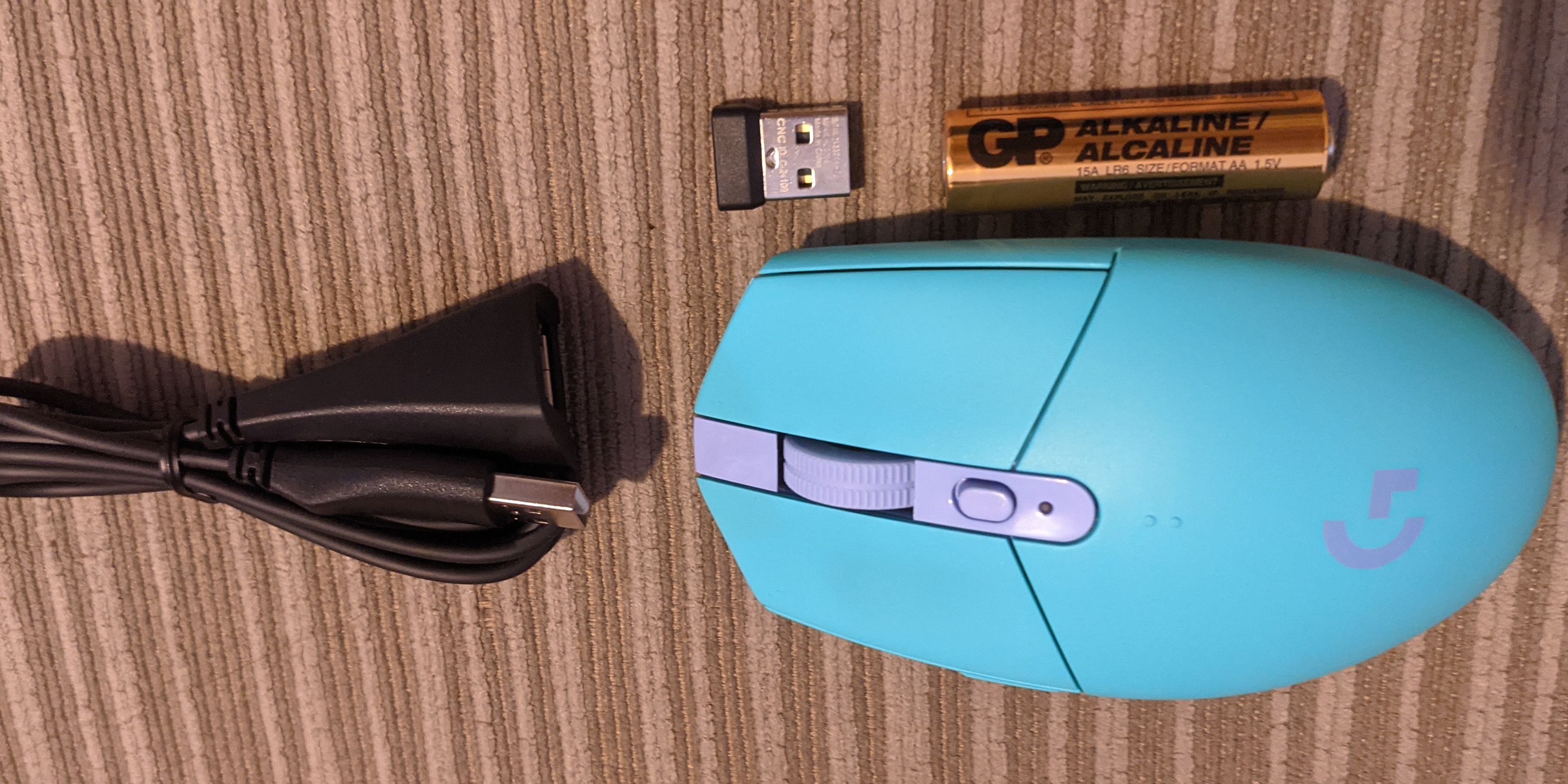 Logitech's new color line offers players plenty to look at, and the G305 wireless gaming mouse is no exception. Bright and bold, this mouse is backed by a powerful sensor, top of the line switches, a long battery life, and more. Logitech's wide selection of styles and an on-board memory supported by their customization app, this versatile gaming mouse lets players show off in-game and in the office. The minimalist design is unassuming, yet the programmable buttons are intuitive and ideal for assigning frequently used keys. Designed to be stylish, lightweight, and affordable, Logitech's G305 Lightspeed wireless gaming mouse is exactly what some working gamers have been waiting for.
Gaming mice don't have to be large, clunky, "boring" devices. The Logitech G305 Lightspeed Gaming Mouse is the perfect example that a gaming mouse can be both stylish, colorful, portable, sleek, and most importantly, affordable. Gamers that are looking for something that's easy to carry with them, and offers up great wireless performance, should turn their attention toward this modern and customizable Logitech peripheral.
Key Features
On-board memory for 1 profile
Vibrant color options
USB extender included
250-hour battery life
6 programmable buttons
Logitech HERO™ Sensor
1ms report rate
Compact, portable design
Specifications
Brand : Logitech
Weight: 3.49 oz (99 g)
Sensor and DPI: HERO™ 200 – 12,000 DPI
Switches: Mechanical
RGB Lighting: No
Programmable Buttons: Yes
Connectivity: 1000Hz (1ms)
Wireless: Yes
Battery Life: 250 Hours
Battery Type: AA
Multi-Device Pairing: N/A
Pros
Stylish, unique colors available
Ideal for use at work and in-game
Ultra lightweight
Long battery life
Competitive DPI range
Cons
Realistically only 2 customizable buttons
Scroll wheel has a short range
Lacks grip texture
Buy This Product
Logitech G305 Lightspeed Gaming Mouse
Note: In the week leading up to this review, the G305 Lightspeed was used as the primary mouse in both a work and gaming setting.
The mouse was tested in the following games:
Death Stranding
Valorant
Contents of Package
Related: The Most Important Things To Consider When Buying A Gaming Mouse
Presentation & Design
The G305 Lightspeed's Official Size & Measurements
Weight
3.49 oz (99g)
Length
4.59 in (116.6 mm)
Width
2.45 in (62.15 mm)
Height
1.50 in (38.2 mm)
The star of the show is the stylish design, which is available in six unique color schemes. While most gaming mice are black or white, these options offer pastel alternatives that are rarely seen at all in the gaming world (outside of Etsy). Light effects are nice, but for gamers that prefer to avoid bright lights in their peripherals or that game in well-lit areas where RGB is hardly even visible, the G305 is one of the best ways to add a splash of color to any setup.
The G305 Lightspeed's Official Layout & Buttons
Buttons
6 programmable buttons
Switches
Mechanical
Right-Handed
Yes
Left-Handed
No
DPI Button
Yes
What this mouse lacks in size, it makes up for with responsiveness. The buttons are very sensitive and are activated even with a light touch. The scroll wheel is fairly standard, but try not to get upset while using it because scrolling too quickly often ends up with an unintended click and the wheel itself can be quite noisy, particularly in an office setting. The scroll range is also somewhat small, but this honestly doesn't affect much since only the scroll wheel button can be reprogrammed, not the wheel itself. One of the few textured spots on the mouse, the wheel is ideally sized and provides pleasant tactile feedback while scrolling.
Comfort
If players prefer smaller gaming mice, the G305 might be for them. It isn't very small, but it's certainly smaller than the average gaming mouse and would fit small to medium hands best, especially for players that prefer hovering or claw grips. One downside is the fact that there is almost no texture along the mouse which is…okay.
The lack of texture doesn't cause much trouble, but during intense moments, it might seem like this super smooth mouse is ready to jump out of your palm. Additionally, textured sides just feel nice and not having them will be a deal-breaker for many. Regardless, it's still very comfortable and two programmable buttons are conveniently placed high along the sides so that they can be activated with minimal movement.
In fact, all of the buttons are very easy to click from any hand position. This helps mitigate any issues with the smaller size, as even large hands will be able to click the buttons without having to adjust their grip.
Plus, as the name suggests, the G305 Lightspeed is shockingly light. Despite holding a AA battery at all times, this gaming mouse is a mere 3.49oz (99g) in weight. Not many wireless gaming mice even come close to this weight without a huge jump in price.
Related: Xbox Cloud Gaming Is Getting Keyboard And Mouse Support In The Future
Sensor
The G305 Lightspeed's Sensor Information
Sensor Type
Optical
Sensor Model
Logitech Hero
DPI
100-12000
IPS
400
Acceleration
40 G
Polling Rate
1000 Hz
While not the most powerful on the market, the G305's sensor is exceptional. With 12,000 DPI, gamers can move as fast as most of the competition and certainly fast enough that the difference in performance between this mouse and a much more expensive model is negligible. The DPI shift button makes it easy to switch between programs and games. Players can customize the four cycle options, adjusting the DPI settings to better fit their preferences.
Overall, this sensor is a powerful boon to the G305. It's fast, efficient, and resilient against budget or colorful mousepads, making it ideal for use both in the office and at home.
Related: Do I Need A Gaming Headset?
Software
Logitech G-Hub Compatibility
Windows Compatibility
Windows® 7 or later
MacOS Compatibility
MacOS® 10.13 or later
Other
Chrome OS
Logitech's G-Hub is useful for customizing the G305's six buttons, but the minimalist design can be awkward to use at first. However, once you get the hang of it, remapping the mouse is easy.
Although they can be customized, the fact that there are only two buttons in addition to the standard four is a bit of a bummer, but at least you can still get the essentials like reloading and crouching assigned to your mouse. Plus, with G-Hub allowing multiple saved profiles, you can create a play-mode layout and a work-mode layout to make further use of the other two buttons by assigning stuff like copy and paste to the mouse as well. That prospect might not be as exciting as prepping for an FPS, but for office workers (especially Excel wizards) assigning shortcuts to their mouse can be a major game-changer!
Other Key Features
Battery Life
Battery technology continues to improve with each passing year and the G305 is another example of this trend. While this mouse can't be recharged, a single AA battery provides 250 hours of use. If the endurance mode is activated, the mouse can run for up to 9 months! Once the battery is running low, G-Hub will notify the user and the light beneath the DPI shift button will come on as a warning.
USB Receiver
Tiny, yet powerful, the wireless 3.0 USB receiver for this mouse is very convenient. Like most wireless mice, it's hardly noticeable when plugged in and is compatible with most devices that run on Windows, Mac, or ChromeOS. When it's time to move, the receiver fits perfectly inside a compartment on the top of the mouse that opens smoothly and closes with a satisfying click. This makes it perfect for going between the office and home, and with the low cost many work from home stipends will cover it.
USB Extender
This cord is included with the G305 Lightspeed mouse, but its use is fairly limited. However, if there is a need for a USB extension cord, it's typically untenable to be without it. Going along with the theme of work and play, this accessory is probably going to get the most use in the office as a trusty work-around for poor wire management in the corporate world.
Colors
The unique and vibrant color options bear mentioning again because they are such a departure from industry standards. At the risk of getting just a bit political, the gaming and electronics industry has long been aimed towards traditional masculine professionalism, meaning sleek black devices as far as the eye can see. Obviously, sleek black devices do look nice, but being able to have color in a gaming setup is becoming more desirable and Logitech's G305 is one of the few products taking an active role in fulfilling that demand. Now gamers that prefer an aesthetic beyond black, white, and gray have options that won't break the bank, but still offer competitive performance.
Related: The Best Gaming Headsets For Under $30
Conclusion – 4.5/5
The G305 Lightspeed gaming mouse is an awesome addition to any PC setup, but really shines as a colorful, versatile mouse for work and play. The powerful tech supports efficiency while making customization effortless.
Perfect for gamers that work from home or for taking back and forth from the office, this ultra-light and portable mouse offers stylish flair without leaving users in sticker shock. Gamers will love the affordability and the wide-ranging compatibility, even if they miss textured sides or higher DPI. Some may even argue that in the face of such budget pricing and attractive colors the trade-off is fair, especially if they prefer to avoid RGB mice. Logitech's G305 Lightspeed wireless gaming mouse is a solid solution to gamers struggling to balance work, gaming, and their budget.
Similar Products
While the G305 Lightspeed has plenty of benefits for working gamers, it probably doesn't suit every need. Below we've listed some alternatives that offer a lighter feel that might be better for gamers that aren't exactly wooed by Logitech's colorful, utilitarian G305 Lightspeed gaming mouse.
FAQ
Q: How do we test gaming mice?
The chosen mouse is used as the reviewer's main peripheral for an extended period of time prior to the creation of the review. It is tested in an office, casual, and gaming setting.
Q: What is the best DPI for gaming?
800 + changing in-game mouse sensitivity.
Q: Does the G305 Lightspeed mouse have a left-handed edition?
No, the G305 Lightspeed mouse does not have a left-handed edition.
Q: Can the Logitech G305 Lightspeed drag click?
No, the Logitech G305 Lightspeed does not have enough texture to drag click.
Q: What is the best way to hold a gaming mouse?
There is no singular best way to hold a gaming mouse. Palm, Claw, and Tip grips all have their uses.
Q: How should I choose a gaming mouse?
First and foremost, define the purpose of the mouse: will it be used exclusively for gaming? Will a specific genre be prioritized? After that, establish a budget, and research the market to get a thorough idea of the available candidates. It is advised to stick to well-known brands like Razer, Logitech, and SteelSeries. Important decision criteria are comfort, features such as extra buttons for versatility in gaming and accurate scrolling, sensor quality and the software that accompanies it, as well as build quality. Here are some more important things to consider when buying a gaming mouse (this was a link).