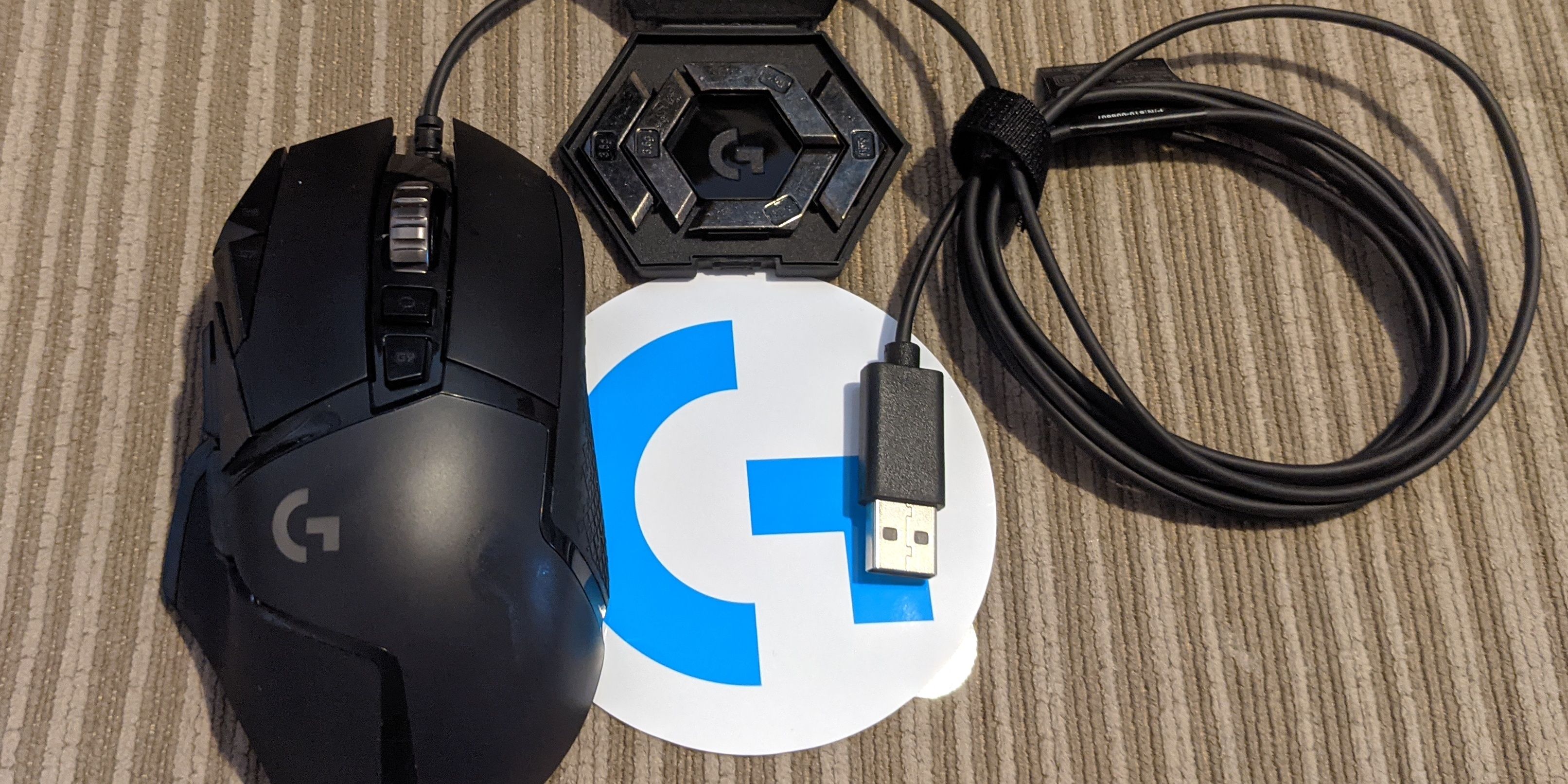 Logitech has long been a source of stylish, comfortable mouse designs, and their forays into the gaming realm have yielded high quality devices. For some gamers, wired is the only way to go, and the G502 Hero gaming mouse is one of Logitech's best answers to this call.
Designed for ultimate comfort and customizability, this gaming mouse can perfectly handle every game for hours at a time. Even from the first second, this mouse feels uniquely comfy. The rubberized grip and precise tracking combine with custom options for weight, button mapping, sensitivity, and of course lighting to provide players with a gaming tool that could carry them through season after season of action and adventure.
The Logitech G502 Hero Gaming Mouse is proof that players don't need to sacrifice user customization, comfort, and performance when snagging a gaming mouse at a lower price point. Its affordability, paired with some great out-of-the-box features makes it one of the better options on the market for those that are looking to secure a great gaming mouse without breaking the bank.
Key Features
11 Programmable Buttons
Five 3.6g Optional Weights
Logitech HERO™ 25K Sensor
Customizable Lightsync RGB
On-Board Memory for 5 Profiles
Ergonomic design
Specifications
Brand : Logitech
Weight: 4.27 oz (121 g)
Sensor and DPI: HERO™ 100 – 25,600 DPI
Switches: Mechanical
RGB Lighting: Yes
Programmable Buttons: Yes
Connectivity: Wired
Wireless: No
Battery Life: N/A
Battery Type: N/A
Multi-Device Pairing: N/A
Pros
Highly responsive buttons
Powerful sensor with high DPI
Plenty of personalization options
Long USB cord
Very comfortable
Cons
Weights can be difficult to remove
Doesn't work well with budget mousepads
Buy This Product
Logitech G502 Hero Gaming Mouse
In the week leading up to this review, the G502 Hero was used as the primary mouse in both a work and gaming setting. The mouse was tested in the following games:
Death Stranding
Valorant
Contents of Package
G502 wired gaming mouse
Set of five 3.6g weights (with case)
Logitech sticker
Instructions and information sheet
Two-Year limited warranty
Related: What Gaming Mice Do The Pros Use?
Presentation & Design
G502 Hero's Official Size & Measurements
Weight
121 g (4.27 oz) + 18 g (.67 oz) optional weight
Length
5.20 in (132 mm)
Width
2.95 in (75 mm)
Height
1.57 in (40 mm)
Length of Wire
6.89ft (2.1 m)
Right out of the box, the G502 Hero looks like something a pro would use. The sharply angled front gives way to glossy buttons and smooth hand rests with minimalist lighting that stays visible even while the mouse is being fully gripped. Stylized lines highlight the buttons and border the textured sides. At a glance, it looks ergonomic and, more importantly, powerful.
The mouse itself is extremely light, with most of the weight being held at the top rather than the base. Instead, a convenient glossy tab lets users open the base with a light touch to reveal a compartment for the included optional weights. The sensitivity of the sensor can also be adjusted and nearly every button can be reprogrammed. The theme of adaptability, complete customization, and comfort is carried through almost every aspect of this high-performance gaming mouse.
The G502 Hero's Layout & Buttons
Buttons

11 Programmable Buttons
2 Side-Scrolling Buttons
4 top buttons
3 Side Buttons

Switches
Mechanical
Right-Handed
Yes
Left-Handed
No
DPI Buttons
Yes
Sniper Button (Sensitivity Clutch)
Yes
On-Board Memory
Yes
Logitech's mechanical buttons use cutting-edge technology to provide quick, satisfying feedback with every click. The sensitivity makes precision gaming a cinch and the DPI can be adjusted using the sniper button or the two auxiliary buttons next to the main right and left clickers. All 11 buttons can be reprogrammed too, in case you don't really need three DPI shift options.
Along with the easily customizable buttons comes the profile cycle switch. You can actually save different button layouts to the onboard memory, allowing for quick changes between games for different characters, classes, or game modes.
Finally, the scroll wheel offers another vestige of personalization with two standard scroll style options: tactile and free-spin. The tactile setting feels hefty and has a satisfying click with each notch, but there isn't much feedback for your finger, despite the seemingly deep-set notches. It's very easy to control though, and is perfect for carefully calculated movements.
The free-spin style is incredibly smooth and speedy. Ideal for seasoned gamers, this thing really moves! You have to be assertive if you decide to use the free-spin option because it goes fast and won't stop purely by catching one of the notches; it also needs a bit of pressure applied. Would it be better to have a Goldilocks setting between these two modes? Probably, but to any gamers that love a fast wheel, this mouse is the new Mecca. For everyone else, the tactile scroll is still a satisfying, if rigid, design.
Comfort
Logitech's long history with commercial computer products means that they're an authority on ergonomics, which explains why comfort is one of the best elements of this wired gaming mouse.
The average size fits both medium and small hands, while the high curve makes any hand position feel natural. The textured sides use soft rubber to support your grip, while smooth matte sections let your palm and fingers glide over the top sections. The buttons are positioned along the mouse so that it only takes slight movement to activate them, while simultaneously being difficult to accidentally click them. The button mapping makes it easy to assign heavily used keys to a convenient trigger, creating opportunities for users to make the mouse even more intuitive than it already is.
The optional weights let players further customize their comfort at any time. Game with an ultra-lightweight standard mouse, add some heft to the base for a more balanced feel, or cater to specific activities by adding and removing the weights at any time. Although, overall, it's not as light as other gaming mice, it's still one of Logitech's lightest, and the optional weights are a fan favorite that can really make a difference in play style and comfort.
Related: What Does DPI Mean For Gaming Mice?
Sensor
The G502 Hero's Sensor Information
Sensor Type
Optical
Sensor Model
Hero 25K
DPI
100-25600
IPS
400
Acceleration
40 G
Polling Rate
125, 250, 500, 1000 Hz
As a device designed for competitive gaming, it makes sense that the sensor for this mouse is Logitech's most powerful, the Hero 25K. This sensor supports four different polling rates and a dots per inch (DPI) range of 100-25,600.
DPI is the number of pixels that are covered when the mouse is moved. The ideal DPI is dependent on personal preference and the intended use; for example, someone with a 4K monitor might need a higher DPI than a player using a 1080p screen, but probably not if they only play cozy games. The G502 Hero can be adjusted to suit almost any setup and playstyle.
Along with a high DPI range, the optical sensor does a great job at tracking high-speed movement. The Inches Per Second (IPS) for this gaming mouse is approximately 400, meaning that the G502 Hero should accurately track movement up to 400 inches per second. It's not the highest IPS available, but it's competitive with similar brands and certainly fast enough that there shouldn't be any issues.
Offering four polling rates, players can toggle through these options whenever they want with a simple button press. 125 may be much too sluggish for many users, but it's perfect for slow, careful games. Meanwhile, 1000 is ideal for FPS gamers looking to boost their reaction time.
One thing of note about the sensor is the fact that it doesn't perform well on budget gaming mouse pads. While this probably won't be an issue for most PC gamers, users with cheap mouse pads may experience some tracking issues. This also means that the G502 Hero is not particularly suited to office work. Stick to the dark, smooth mouse pads for this gaming mouse.
Software
Logitech G-Hub Compatibility
Windows Compatibility
Windows® 7 or later
MacOS Compatibility
MacOS® 10.11 or later
Other
Chrome OS
Logitech's G-Hub isn't necessary to download, but it ultimately adds to the user experience. The main downside to the system is its minimalist design, which is only intuitive once you spend time with it. A more direct design would probably work better, but as it stands most users will be able to change their settings once they familiarize themselves with the various customizing tools.
Unfortunately, this system also has other problems. While testing, G Hub ran slowly and lost connection multiple times while navigating the menus. On the plus side, the community-made customizations (called profiles) are vast and actually useful. These include button layouts and responsive lighting, however it is necessary to search by specific device because there are no search filters and G-Hub will simply list every option in the community hub, regardless of your connected devices.
For individual customization, the G Hub offers tons of useful options and three third-party integrations. Players can connect keys with Overwolf for quick captures and showing replays, with Discord to mute and unmute their mics, and with OBS to toggle streaming tools. All of these can also have other actions attached to the mouse, but these additional options are fairly limited based on the 3rd party application.
Most importantly (to some gamers), the light sync customizations let players change both the logo and the three side lights independently. There are a number of effects to choose from like breathing or solid lights. The brightness can be changed just as easily and users are given the full color wheel to match their style.
Related: Favorite Gaming Mice
Other Key Features
Ideal for players that like to cycle through various games and roles, some of the unique traits of this mouse can quickly become a deciding factor.
Side-Scrolling
Two of the 11 programmable buttons are the left and right scroll wheel buttons. Supposedly made for side-scrolling, these buttons are most useful to efficient gamers that like to keep all of their options close. Whether the keys are assigned to entering a vehicle or reloading, the convenient placement and customizability of the buttons makes them perfect for players that prefer smaller movements when gaming.
Optional Weights
Even though these were previously mentioned, it really should not be understated how useful these weights are. They may seem like a novelty at first, but changing the weight even after a few minutes of use reveals how noticeable the difference is. The only downside to these weights is the fact that they fit very snugly in some of the slots, to the point where it can be difficult to remove them. However, in general, they're quick and easy to use, even between matches. Closing the compartment is literally a snap, as the door seals with a small magnet tab that even provides a little extra thumb support.
On-Board Memory
Another feature meant to support gamers through every activity, the on-board memory is just so simple to use and so very helpful! For anyone who changes button layouts for different games or who simply want to take it easy sometimes, saving profiles is where it's at! The profile shift button on the mouse makes using different layouts absolutely seamless. While on-board memory is a bit expected for gaming mice, Logitech handles it extremely well.
Conclusion – 4.5/5
Not only is this a great wired gaming mouse, it's incredibly affordable too! It has everything a competitive gamer could want, including extreme comfort. The size and shape are ergonomic, smooth, and just feels nice to hold. The custom options really make a difference and allow users to adjust to different play styles with ease. The G-Hub integration tool could use some work, but for now, it gets the job done.
Overall, this is one of Logitech's best wired mouse options while also being on the cheaper end of their product line, making it ideal for fast-paced budget gamers everywhere. Additionally, it's perfect for gamers that have specific wants and needs for different games. This powerful mouse puts an end to compromising features used less often (such as weight) in favor of meeting more common expectations (like high DPI). Gamers can essentially change their hardware on the fly with the conveniently customizable Logitech G502 Hero gaming mouse.
Similar Products
While the G502 Hero gaming mouse is a powerful piece of equipment, it's difficult for it to compete with more expensive counterparts and if you don't like wired mice, you're out of luck. However, there are plenty of other options out there, especially if budget isn't a concern. Here are some other options that suit these other needs better than the Logitech G502 Hero.
Next: Razer Basilisk V3 Gaming Mouse Review
FAQ
Q: How do we test gaming mice?
The chosen mouse is used as the reviewer's main peripheral for an extended period of time prior to the creation of the review. It is tested in an office, casual, and gaming setting.
Q: What is the best DPI for gaming?
800 + changing in-game mouse sensitivity.
Q: What is the difference between G502 and G502 Hero?
The G502 is the wireless version of the G502 Hero.
Q: Does the G502 Hero have a left-handed edition?
The G502 Hero does not have a left-handed edition.
Q: What is the best way to hold a gaming mouse?
There is no singular best way to hold a gaming mouse. Palm, Claw, and Tip grips all have their uses.
Q: How should I choose a gaming mouse?
First and foremost, define the purpose of the mouse: will it be used exclusively for gaming? Will a specific genre be prioritized? After that, establish a budget, and research the market to get a thorough idea of the available candidates. It is advised to stick to well-known brands like Razer, Logitech, and SteelSeries. Important decision criteria are comfort, features such as extra buttons for versatility in gaming and accurate scrolling, sensor quality and the software that accompanies it, as well as build quality. Here are some more important things to consider when buying a gaming mouse.