When AMD announced its new flagship RDNA 3 GPUs last year, the Radeon 7900 XT and 7900 XTX, the company also briefly teased that it was developing FSR 3. Its next-generation FidelityFX Super Resolution 3 technology would, in effect, present an alternative to NVIDIA's DLSS 3 – specifically Frame Generation.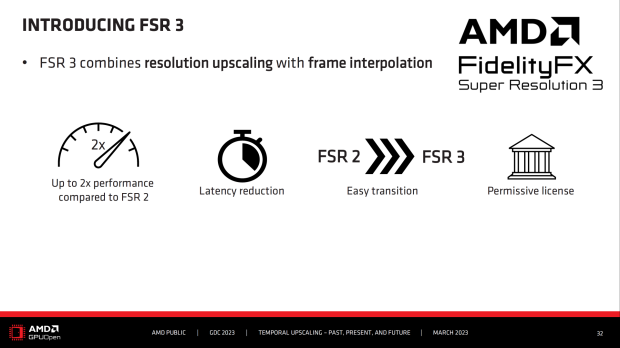 VIEW GALLERY – 5 IMAGES
With FSR 2 being an open DLSS Super Resolution alternative, FSR 3 will follow suit – with the technology appearing at GDC 2023. For the still-in-development FSR 3, AMD aims to achieve a 2x performance increase over FSR 2 by creating new frames.
AMD outlined a high probability that each interpolated or generated pixel in a frame will have a sample. With no feedback loop, each interpolated frame will only be shown once. And with that, AMD notes that the recommendation for FSR 3 is that the input should be at least 60 frames per second.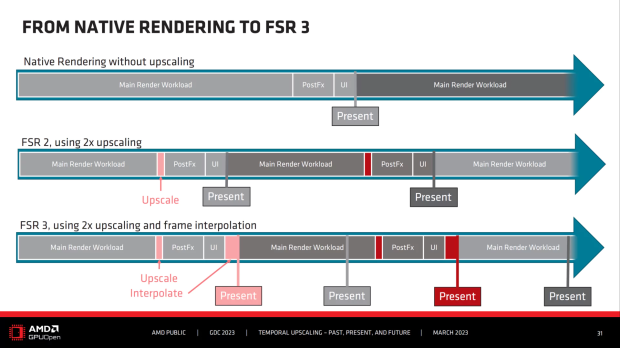 As per a diagram from AMD, FSR 3 will use FSR 2-like upscaling and latency reduction, much like how NVIDIA's DLSS 3 combines Frame Generation with Super Resolution and Reflex technologies. FSR 3 uses motion vectors with the new "AMD Fluid Motion" to produce the new frames, with AMD stating that "good motion estimation is key for interpolation" and that gamers need "the lowest latency possible."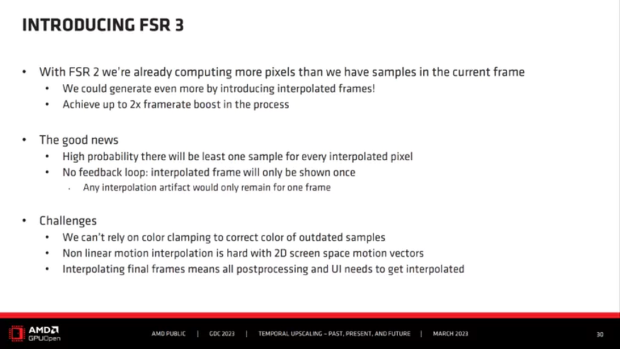 Although we don't have a release date for FSR 3, AMD has previously said it's on track for a first-half of 2023 release. AMD showcased a demo at GDC where an Unreal Engine 5 bit of gameplay saw a framerate jump from 60 fps with FSR 2 to 120 fps with FSR 3. Like FSR 2, AMD also confirmed that FSR 3 would be open-source and available through an MIT license for easy game integration.