The world's fastest gaming GPU is no longer officially available in China, thanks to new US government restrictions that restrict sales of powerful GPU hardware that can be used for AI processing. Based on the new export measures, the GeForce RTX 4090 – a GPU designed for PC gaming – falls under the 'banned' list because it's simply too powerful. Every other gaming GPU, including the GeForce RTX 4080 and Radeon RX 7900 XTX, is okay.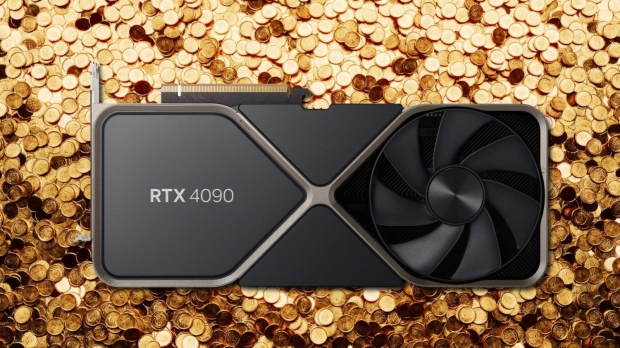 VIEW GALLERY – 2 IMAGES
As spotted by Videocardz.com, the GeForce RTX 4090 is no longer listed on NVIDIA's website in China – effectively removing it from the official GeForce RTX 40 Series lineup in the region after the restrictions took effect on November 17. The RTX 4090 has even been removed from all official performance charts, so the GeForce RTX 4080 is the most powerful GeForce RTX 40 Series GPU in China.
That said, you can still pick up an RTX 4090 in the region. Several reports indicate that NVIDIA and its partners sent a surplus of RTX 4090 stock into the region ahead of the restrictions. This isn't great news for the rest of the world because GeForce RTX 4090 prices are at an all-time high.
In or out of China, picking up a GeForce RTX 4090 at MSRP is no longer an option – and this probably won't change anytime soon. Unless, of course, NVIDIA increases the supply of the flagship GPU to other regions, but with the impending launch of the new GeForce RTX 40 Series SUPER GPUs, which will include the new GeForce RTX 4080 SUPER, odds are the focus will be on these new cards in the months ahead.
Interestingly, the workstation RTX 6000 Ada Generation GPU is still listed in China, which shares similar specs to the GeForce RTX 4090 but with more memory (48GB compared to 24GB) and more CUDA Cores. Perhaps NVIDIA is planning to apply for a hard-to-obtain export license (to bypass the restrictions) to continue selling this more expensive workstation Ada card, or like with the GeForce RTX 4090, there's still plenty of stock in the region, and as these cards are made entirely by NVIDIA, the listing will remain online until it's no longer available.