If you're in the market for a new graphics card right now, you can enjoy some killer Black Friday sales on both NVIDIA GeForce RTX series and AMD Radeon RX series graphics cards.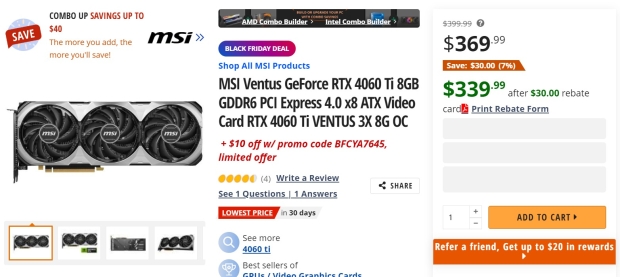 VIEW GALLERY – 2 IMAGES
The ASUS GeForce RTX 3060 12GB Phoenix V2 graphics card has been seen as low as $255 on Amazon, while on the Intel side of things, you've got Sparkle's A770 TITAN OC graphics card for $289. The GeForce RTX 3060 for $255 isn't bad at all, especially if you're playing games on a 1080p display and want to spend under $300. The Intel Arc GPU… I don't think they're ready for primetime just yet, but that's just me.
If you want to go a bit higher-end, you can get a good deal on the GeForce RTX 4060 Ti for around $330, which isn't too bad at all for 1080p, 1440p, and ultrawide gamers with high refresh rates (120Hz, 240Hz, etc). Alternatively, there's the XFX Radeon RX 6800 Speedster SWFT319 graphics card for $370.
Want the current-gen RDNA 3-based Radeon RX 7000 series? The GIGABYTE Radeon RX 7700 XT GAMING OC 12GB graphic card is enjoying a price of around $440 during Black Friday sales, while the XFX Radeon RX 7800 XT Speedster QICK319 CORE graphics card for $480.
Get your deal on below: