New memory module releases happen at a pretty steady clip. Still, the latest T-FORCE VULCAN ECO DDR5 Desktop Overclocking Memory from TEAMGROUP is worth highlighting for several reasons. First, there's support for the latest Intel XMP 3.0 and AMD EXPO overclocking profile features for simple and easy dual-platform overclocking. Second, you've got on-die ECC with IC error detection and correction for reliability and stability backed by a lifetime warranty.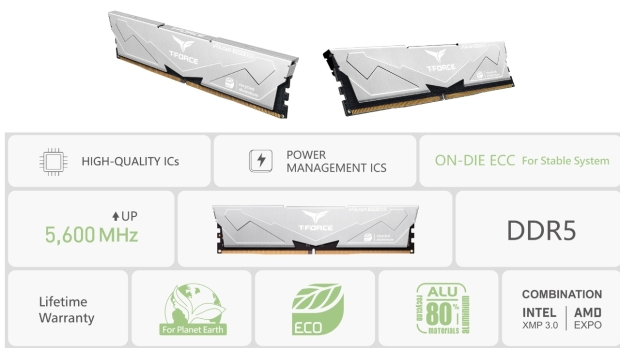 VIEW GALLERY – 2 IMAGES
Most importantly, though, is that the new T-FORCE VULCAN ECO DDR5 Desktop Overclocking Memory is the industry's first DDR5 OC memory module featuring an aluminum heat sink made from recycled materials. And we're not talking about a small percentage either, with the highly efficient heat spreaders made from 80% recycled aluminum.
And with that, this is the first memory product designed for gaming from T-FORCE that is sustainable, eco-friendly, and able to handle whatever workloads you can throw at it.
For every 10,000 heat sinks made from recycled aluminum for T-FORCE VULCAN ECO DDR5 memory modules, carbon emissions are reduced by 73% or roughly 1,666 kilograms. According to TEAMGROUP, this is the equivalent of 550,000 hand towels, 310,000 plastic straws, 30,000 plastic bags, and 10,000 PET bottles.
Although the top speed of 6,000 MHz is not the highest out there for DDR5 memory, this is a fantastic new memory product from TEAMGROUP and something we hope to see more of in the future. Here are the full specs for the latest eco-friendly T-FORCE VULCAN ECO DDR5 Desktop Overclocking Memory.
T-FORCE VULCAN ECO DDR5 DESKTOP MEMORY
Capacity: 32GB (2 x 16GB)
Frequency/Latency: 6000MHz (CL38), 6000MHz (CL30), 5600MHz (CL40)
Data Transfer Bandwidth: 44,800 MB/s (CL40), 48,000 MB/s (CL30, CL38)
Voltage: 1.2V (CL40), 1.35V (CL30), 1.25V (CL38)
Compatiblity: Intel 600 series, 700 series, AMD 600 series
Dimensions: 32.7(H) x 140(L) x 7.5(W)mm
Warranty: Lifetime warranty