TEAMGROUP is headed to Computex 2023, and under its "Dazzle, Chill, Integrate" banner, the company is set to showcase several new products ranging from new high-speed memory kits, a funky new RGB-lit AIO cooler, and even PCIe Gen5 M.2 SSD storage with active cooling that can hit sequential read and write speeds of over 12,000MB/s and 11,000MB/s.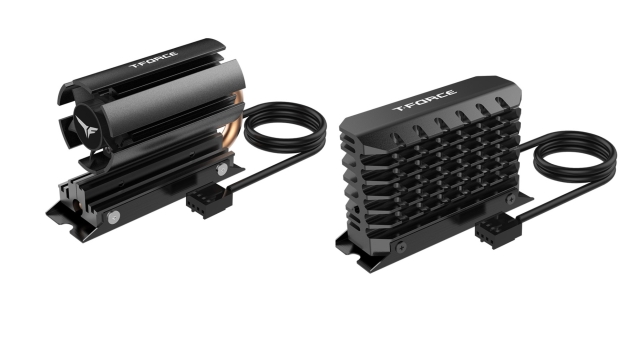 VIEW GALLERY – 5 IMAGES
The T-FORCE DARK AirFlow Cooler Series, Gen5 M.2 PCIe SSD in particular, looks impressive and is the flagship Gen5 SSD from TEAMGROUP. The company notes that it has designed the heatsink specifically for the drive, which includes aluminum fins, heat pipes, and an active fan.
TEAMGROUP is best known for its memory solutions. At Computex, we'll see several new T-FORCE products, including T-FORCE XTREEM ARGB DDR5 Gaming Overclocking Memory and T-FORCE XTREEM DDR5 Overclocking Memory. Both feature frequencies starting from 7,000MHz to 8,266MHz, so you're looking at some pretty incredible speeds backed up by excellent cooling and stylish designs.
The T-FORCE XTREEM ARGB DDR5 memory kits feature "black translucent acrylic" to house the RGB light strip, while the non-RGB T-FORCE XTREEM DDR5 kits feature a stylish matte black finish.
Here's the breakdown of what to expect, which you can see in person on the show floor at Booth No: I0118 (1F), Zone I, Storage and Management Solutions Zone at the Taipei Nangang International Exhibition Center. Computex 2023 runs from Tuesday, May 30, to Friday, June 2.
T-FORCE XTREEM ARGB DDR5 – Dazzling Aurora & Extreme Performance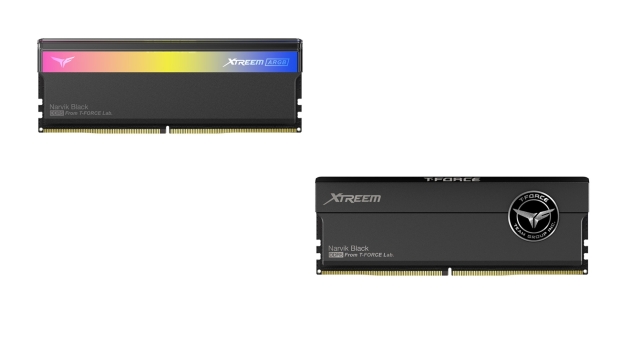 T-FORCE XTREEM ARGB DDR5 Gaming Overclocking Memory is equipped with innovative dual light pipes which utilize black translucent acrylic and multi-optical designs to display a soft aurora-like flow of light. The matte heat spreader of the XTREEM ARGB DDR5 is made of high-quality 2mm black aluminum alloy, which has undergone aluminum extrusion, CNC processing, sandblasting, and black anodizing, creating a unique material that combines the hardness and durability of basalt and the soft texture of black beach sand. It comes in various frequencies starting from 7,000MHz~8,266MHz and is specially designed for gamers after an extreme performance and dazzling RGB lighting.
T-FORCE XTREEM DDR5 – Ultimate Overclocking & Invincible Cooling
The new T-FORCE XTREEM DDR5 Overclocking Memory comes in frequencies starting from 7,000MHz~8,266MHz, offering the highest speeds in the entire T-FORCE DDR5 series. For maximum overclocking potential, XTREEM DDR5 uses a high-quality 2mm thick aluminum alloy heat spreader and a highly thermally conductive silicone gel to provide a superb cooling effect. The two-piece heat spreader has a slanted fin-type design and is treated with sandblasting and black anodizing, giving it a low-key matte texture reminiscent of black beach sand. On top, the glorious T-FORCE logo adds a majestic and elegant flair to the overall appearance.
T-FORCE SIREN GA360 ARGB CPU All-In-One Liquid Cooler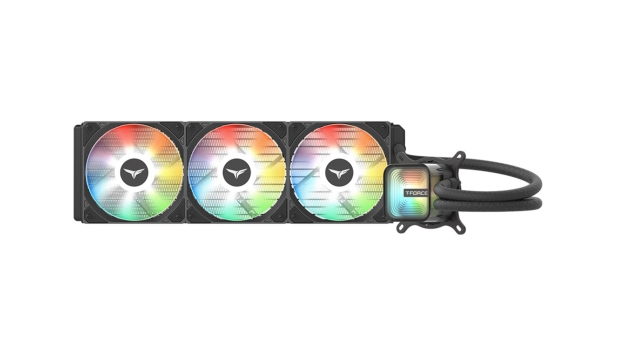 Developed in collaboration between T-FORCE and ASETEK Designworks. It features the latest 7th generation ASETEK V2 pump, next-gen high-efficiency motors, and smart control PWM technology, allowing for precise real-time adjustment of water block motor and fan speeds based on CPU temperatures, producing optimal cooling efficiency with minimal power consumption. The liquid cooler uses an "aurora" ARGB water block and fan and supports multiple lighting control programs, providing gamers with a gorgeous aurora-like display. In the spirit of eco-friendliness, SIREN GA360's entire manufacturing process is RoHS-compliant, and its packaging is made of recyclable materials, allowing the GA360 to deliver incredible gaming prowess while supporting a greener environment.
T-FORCE DARK AirFlow Cooler Series Gen5 M.2 PCIe SSD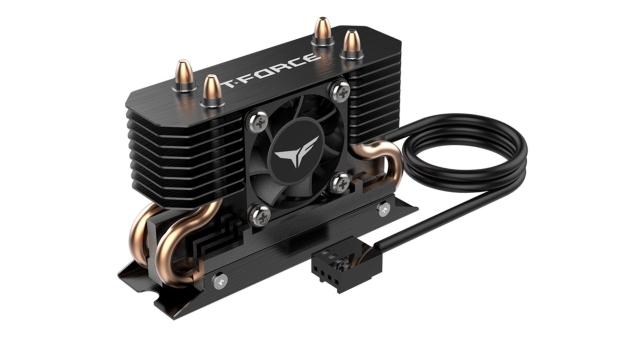 The T-FORCE DARK AirFlow Cooler Series Gen5 M.2 PCIe SSD is expected to reach a maximum sequential read and write speed of over 12,000MB/s and 11,000MB/s, respectively, making it the fastest flagship PCIe Gen5 SSD from T-FORCE. T-FORCE DARK AirFlow Cooler is equipped with an exclusively-designed aluminum fin heatsink with multiple layers and heat pipes passing through, which significantly increases its thermally conductive area. Combined with an active fan cooling device and multi-faceted cooling design helps Gen5 M.2 PCIe SSD eliminate heat sources and maintain optimal operating temperatures when running at full speed.
TEAMGROUP will have other products on hand, including new USB storage devices. It will also be unveiling "the first all-in-one SSD liquid cooler" for PCIe Gen5 SSDs – so stay tuned for that.