Vladimir Solovyov, a Russian state television host and ally of Russian President Vladimir Putin, promoted a social media message saying that Russia could use a "preventive nuclear strike" to protect itself from the "superior" forces and weapons of NATO countries.
The post was written and originally shared on Telegram on August 11 by Alexander Sosnowski, who the Belarusian state-owned news agency BelTA identified as a political analyst. Sosnowski has reportedly appeared on Solovyov's television show in the past, according to the Daily Express. Solovyov, who the U.S. State Department has pinpointed as a face of Kremlin propaganda, reshared the post the day it was published.
"The refusal to issue visas to Russian citizens and the declaration of the Russian Federation as an accomplice of terrorism puts an end to relations with Europe," an English translation of the post read. "This means the actual entry into the war with Russia. Severing ties, supplying weapons is direct participation in the war. Moreover, in a war with really superior forces, given the number and armament of NATO countries. This is a real threat to the existence of Russia and may lead to the use of the doctrine of a preventive nuclear strike."
Russian state television figures have repeatedly pushed for an escalation of the ongoing war in Ukraine and have even suggested that the conflict could be a stepping stone for a larger fight against NATO. But after more than five months of the Ukraine war without a decisive Russian victory, how the country would fare against the 30-member military alliance remains unclear.
Putin has not publicly voiced any definitive plans to take the conflict beyond Ukraine's borders or declare war against NATO, but he has warned in recent months that any countries that "create a strategic threat to Russia" during the Ukraine offensive can expect "retaliatory strikes."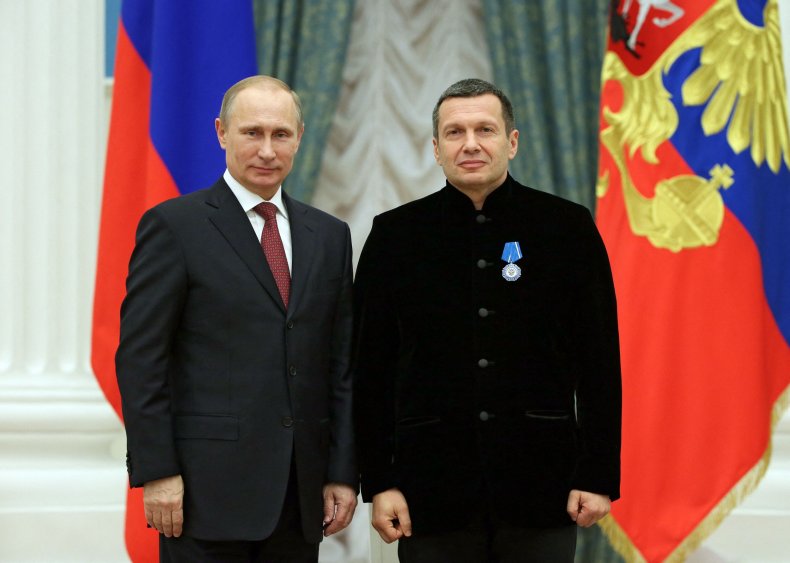 Sosnowski's comments on visas for Russian citizens came after leaders from European Union members Finland and Estonia called on fellow European nations last week to stop issuing tourist visas to Russians amid the war.
"Visiting #Europe is a privilege, not a human right….Time to end tourism from Russia now," Estonia's Prime Minister Kaja Kallas tweeted on August 9.
Her Finnish counterpart, Sanna Marin, told Finnish broadcaster YLE on August 8 it was wrong "that at the same time as Russia is waging an aggressive, brutal war of aggression in Europe, Russians can live a normal life, travel in Europe, be tourists."
Estonia announced last week that it would prevent most Russians from entering its borders with Estonian-issued Schengen visas, joining several other countries—Latvia, Lithuania and the Czech Republic—in cracking down on Russian travel in Europe, Reuters reported.
As Sosnowski appeared to note in his post, Latvia's parliament, called the Saeima, adopted a statement on August 11 recognizing Russia's alleged violence against Ukrainian civilians as "terrorism" and pinpointing Russia as a state supporting terrorism.
The Saeima also called on other EU countries to immediately halt issuing tourist and entry visas to Russian and Belarusian citizens.
Newsweek reached out to NATO, Solovyov and the Kremlin for comment.