The former commanding general of the United States Army Europe has said that Russia will try to force a pause in fighting in Ukraine so its troops can regroup.
Mark Hertling said in a Twitter thread on Thursday the conflict was now entering its fourth phase. The first phase involved Russia's initial intentions of executing a change of government in Kyiv and controlling ports on the Black and Azov Seas.
The second phase included a struggle by both sides for personnel, equipment and ammunition, while the third phase saw Ukrainian forces generate momentum.
Hertling said that now Moscow is seeking to create a "frozen conflict" along the lines of the situations in Transnistria, a Russian-dominated unrecognized republic in Moldova, and the similarly unrecognized breakaway Georgian republics of South Ossetia and Abkhazia.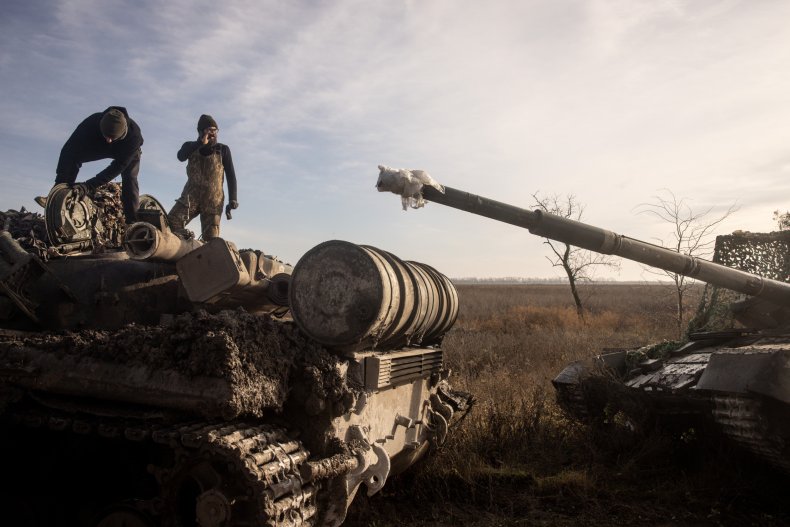 But Hertling said that a cessation in hostilities could allow Russia to "rebuild their force and attack again" and that the West "should not fall for this ruse."
He said that Moscow "must not be allowed" to create another frozen conflict with "shifty attempts at cease fires."
"Ukraine will still win this fight, regain their territory and sovereignty. But there's lots of fighting ahead," he said.
Hertling, who commanded the 1st Armored Division and Task Force Iron/Multinational Division-North in Iraq during the troop surge of 2007 to 2008, also predicted that Iran, which is supplying drones, and reportedly missiles to Russian forces, would continue to step up its support for Moscow.
Meanwhile, Moscow's forces will focus on the "continued destruction" of Ukrainian infrastructure and "the suffering of the Ukrainian people as a strategic objective to gain concessions."
"Ukrainian morale will be tested" with continued Russian attacks against civilian infrastructure but the country "will persevere."
Following Russia's withdrawal from Kherson, Hertling believed that Ukraine's force "will slowly grow in capabilities" although a continued maneuver east of the Dnieper River and into the Russian occupied Donbas region "will prove to be a much tougher fight."
He said that the Ukrainian armed forces face fights in the east and the south of the country which will be "tougher" because of trickier terrain, longer supply lines and the issue of fielding new weapons and tactics.
Hertling's comments come as Petro Kotin, head of nuclear power company Energoatom, warned of the consequences of continued Russian attacks against Ukrainian nuclear power plants, saying on Thursday that such attacks risked "nuclear and radioactive catastrophe."
A day earlier, Ukrainian officials said three nuclear power plants on territory held by Ukrainian forces had been switched off after the latest wave of Russian missile strikes.
Newsweek has contacted the Russian defense ministry for comment.